Compare your retirement options
Retirement planning = big decisions. You'll want to find out as much as you can about your options, before you decide how to take your pension savings.
Your options at retirement
Once you reach your normal minimum pension age, you can start taking money out of your pension if you want to. This could be earlier if you need to retire due to ill health.
You don't have to choose 1 option or take your money all at once – you can use parts of your pension pot(s) for different options.
Many providers offer different options, so it's worth doing your research before you make any decisions. Plus it's a good idea to get some guidance and advice to help you decide – we recommend you start by going to Pension Wise for free impartial guidance.
Choose your option
Use our interactive decision tool to help you decide.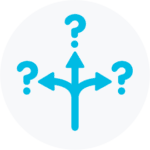 What are your options for taking your pension money?
You have more options if you have more than £10,000 in your pot. So, if you have £10,000 or less saved, you might want to think about combining your old pensions into one pot with us.
When you take your pension, normally 25% of it is tax free. The rest (usually 75%) is taxable as with other earned income, like a salary. You can take your tax-free cash in a slightly different way for some of the retirement options below. We explain more about this on each of the retirement option pages.
Retirement scenarios
Deciding how to take your pension savings is a personal decision – we can't tell you what's right for you. But you can get an idea of how different people take their savings in different ways by reading our case studies.
Karishma wants to take some money now and continue working
Karishma has paid into her pension throughout her career and wants to take some of her pension savings now to pay off her credit card. She isn't planning on retiring just yet, so she wants to continue working and paying into her pension.
As she has more than £10,000 in her pension pot, she's decided to take some of her tax-free cash now and leave the rest invested, as she doesn't need it all right away. With this option, she can continue to build her pension pot just as she is now, meaning her employer will still be able to pay in and she'll keep on receiving tax relief from the government on what she contributes too. And because she's left some of her tax-free cash and the rest of her pension savings invested – giving them more time to grow – she could get even more tax-free cash later on in life.
Read more about taking your tax-free cash up front.
James is retiring a year earlier than planned due to a health scare
James worked in the city and has saved into his pension since he was 20, building up a reasonable pension pot. Because of his health scare he's decided to retire now to spend more time with family and friends.
He has savings but no other income so plans on using his pension savings until he gets the State Pension.
He's chosen to spread his tax-free cash across all withdrawals. 25% of each withdrawal taken will be tax-free, and he may pay tax on the rest of what he takes out, just as he would if he was still earning. If he keeps the taxable amount withdrawn below the personal allowance for tax each year, then he may not pay tax at all on his withdrawals.
Taking money in this way will limit how much he can pay into a pension and receive tax relief on in future.
Read more about spreading your tax-free cash across all withdrawals.
Niki is considering combining her pension pots to make them easier to manage
Niki loves to shop and would like to continue her current lifestyle once she retires. She has a few hundred pounds in her pension pot with us. She could take it all in one go but it wouldn't last her very long. She's worked for 5 different employers in her career, so she's ended up with another 4 pension pots with other providers as well.
To make it easier for her to manage her pension savings, she's going to transfer her old pots into The People's Pension. This will open up more options on how she can take her pension savings when she retires, as once she has more than £10,000, she'll be able to take it a bit at time if she wants to.
She may also pay less in charges as she could receive a rebate on her management charge from us. The more she has in her pot with us the bigger the rebate she'll receive, helping to boost her savings even further.
Read more about combining pension pots.
Guidance and advice
Making decisions about your pension can be complicated. So you may need some help.
Find out more about your guidance and advice options and discover helpful resources on our guidance and advice for members page.
To get the most from your pension when you retire it pays to think ahead.
When you've compared your options and decided how you want to take your pension savings, you can request this quickly in your Online Account.